Figured I should make an announcement following my tweet yesterday, so here it is. I'll be subbing the NHK drama SP "Nagareboshi" (lit. "shooting star") starring Matsuzaka Keiko, Kuroshima Yuina, Kiriyama Akito, Taira Yuna, Horii Arata, Omi Toshinori, Funakoshi Eiichiro, etc.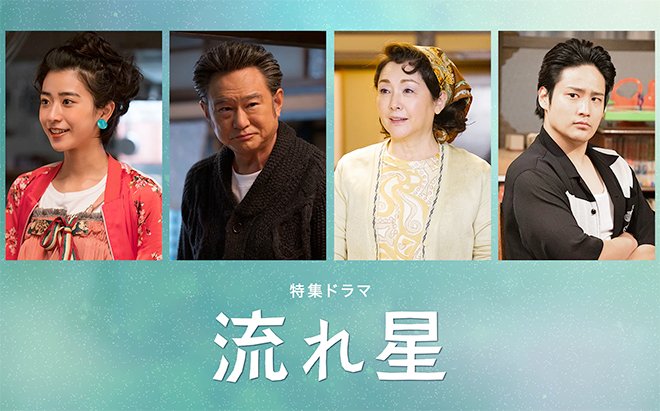 Synopsis (from jdramas.wordpress.com):
Hoshino Natsuko (Matsuzaka Keiko) is an ordinary housewife who has had a chilly, loveless relationship with her husband Kensaku (Funakoshi Eiichiro) for a long time and considerably few conversations with him. One day, Kensaku goes out for a gathering in the neighbourhood but he collapses all of a sudden and passes away. Natsuko is now all on her own. A witch called Yumeno Mary (Kuroshima Yuina) appears in front of her and offers to grant her four wishes. Natsuko requests to travel to the past, to a time before she met her husband. She and Mary go back 50 years. This is where Natsuko meets Kensaku (Kiriyama Akito) in his younger days, her high school self (Taira Yuna), her father Shintaro (Omi Toshinori) who was alive at the time, and other people. Concealing her true identity, she relives the past and not only learns the real reason for her break up with her high school teacher Nakatomi Kazuya (Horii Arata) whom she admired, but also the truth about her husband that she did not know. What awaits Natsuko at the end of her time travel? And what will she make as her final wish to Mary?